Tentazioni di Gusto, the Restaurant of Badia Nuova
Our is the only hotel with a restaurant in the city center of Trapani. Here you can discover the taste of the local traditional cuisine, treat yourself with a lobster-based dinner or let new flavors combinations overwhelm you. The ingredients of our cuisine are the constant research for genuine products, coming from Slow Food presidia, the careful selection of local producers and creativity. Our courteous and professional team will guide you in the choise of dishes and advise you on wine pairing.
We offer our guests half board or the possibility to order à la carte with a 20% discount. Room service is also available ordering out directly from the room telephone.
Our seasonal menu always include fish and meat-based dishes as well as gluten-free, vegetarian and vegan ones, and the dishes most loved by children.
We conceived 3 different half board formulas. The dishes proposed will be different every day and it is not possible to know them in advance.
---
Basic menu
2 dishes to choose between 1 starter, 1 first and 1 second course
Dessert or fruit
Water and coffee
Drinks excluded
Price: 25€ / person (if not included in the rate)
---
Full menu
1 starter
1 first course
1 second course with side dish
Dessert or fruit
Water and coffee
Other drinks excluded
Price: 30€ / person
---
All Inclusive menu
1 starter
1 first course
1 second course with side dish
Dessert
Fruit
Water, regional wine from Cantine Rallo (1 bottle every 4 people) and coffee
Price: 35€ / person
---
Baby menu
1 dish to choose from: gnocchi with pesto, pasta with tomato sauce, ravioli with meat sauce or breaded cutlet with fries, fish nuggets with lettuce, roasted chicken with potatoes
1 dish to choose from: fruit cocktail or ice-cream
Drinks excluded
Price: 10€ / child (4-9 y/o)
---
In half board it will be possible to choose different dishes daily through a simple menu at the table, with the exception of groups of more than 10 people. For the latter we advise you to contact us before arrival at the structure to agree together on the desired service.
Download the Seasonal Menu Download the Board Menu Ask for Info
Offers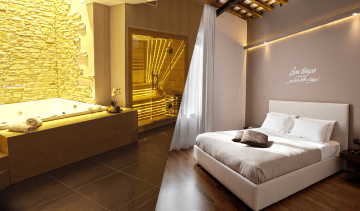 Offer
Valid from
Till
Bed and breakfast in a double room and wellness program starting from 89,50 € per person.