Scopello and Zingaro Reserve
After passing the famous Baia Guidaloca with its pebble beach and crystal clear water, you will arrive at the beautiful village of Scopello. Park your car and walk to this enchanting town: you will find an ancient water trough on the square,and, in front of it, a picturesque beam, where there are craft shops, restaurants and bars.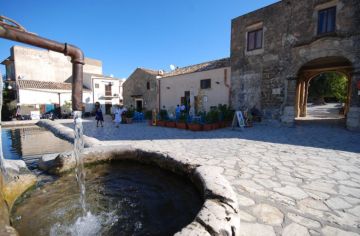 Staying in the village, from the restaurant "La Terrazza" it is possible to look out to admire a view of rare natural beauty: the uncontaminated basin of the Tonnara where you can see the "Torre Bennistra" and two fantastic "faraglioni"!
You will observe their spontaneous vegetation, despite the fact that these rocks are continually beaten by the waters and winds: prickly pears, capers...Now on the other side of the village, few steps to reach the famous bakery. Take a seat under the arbour and enjoy the "pane cunzato" and the "cassatelle", or organize your packed breakfast for the day at sea with this.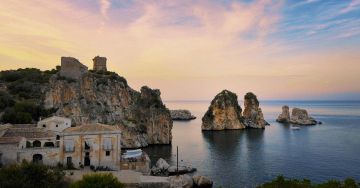 The Tonnara dates back to the 15th century and over the centuries has passed to different families, up to that of the Florio family, today it is private property. You can visit it by purchasing the entrance ticket for about 7€ per person. We recommend that you buy tickets to have your seat with beach chairs and not risk waiting in line under the sun.
Very close to the Scopello area, do not miss the excursion to the Zingaro Nature Reserve. Park your car at its entrance and explore the fantastic paths rich in Mediterranean vegetation and fauna (about 670 species!). It is necessary to buy the ticket to access the reserve.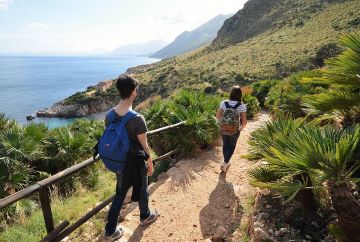 About 7 km of nature divided into 4 coves, one more beautiful than the other, a balanced and protected ecosystem that hosts a rich fauna, rare birds and insects.In the whole reserve there is only one dwelling, today transformed into a naturalistic museum. Once you reach your cove, taking a seat on the pebbles, you will spend wonderful hours listening to the sound of the waves breaking on the water edge and swimming in clear waters, rich in fish and marine life. The Zingaro Reserve is a place where you will be surrounded only by nature, you will not find any shop. We advise you to arrive therefore equipped with a hat, protective cream, umbrella, water and food.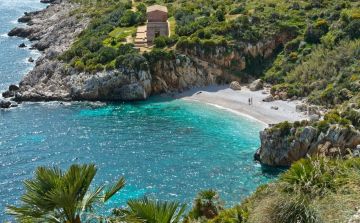 It would be ideal to spend a day for each of the destinations described but if you have limited time, we recommend starting with the Zingaro Reserve from Trapani with wake up at dawn and reach the Tonnara di Scopello in the early afternoon. Back in Trapani you will probably be tired but definitely happy and satisfied for the lovely day!